When I
went to Ireland
last summer, the food was amazing! It was a nice break from Italian pasta and paninis - which were also amazing - and it was the first time I had regular eggs and potatoes in a while. With St. Patrick's Day coming up this weekend, I've seen plenty of recipes popping up around the web that are Irish or Irish-inspired!
While these would be good any time of the year, why not whip up a thing or two to get into the holiday spirit?
"Chocolate Stout Cupcakes with Bailey's Irish Cream Cheese Frosting"
click
here
for the image source and recipe!
Doesn't the name alone just sound wonderful?! Not only does Bailey's Irish Cream taste like the alcoholic equivalent to a chocolate milkshake, but the cupcakes are under 200 calories each! These would be perfect to bring to a party.
Mini Shepherd's Pies
click
here
for the image source and recipe!
I love Shepherd's Pie. From its looks, it may not seem very appetizing, but I promise - it tastes good! Since a whole Shepherd's Pie is pretty heavy, these mini pies are a much lighter alternative.
"Hint O' Mint" Chocolate Chip Cookies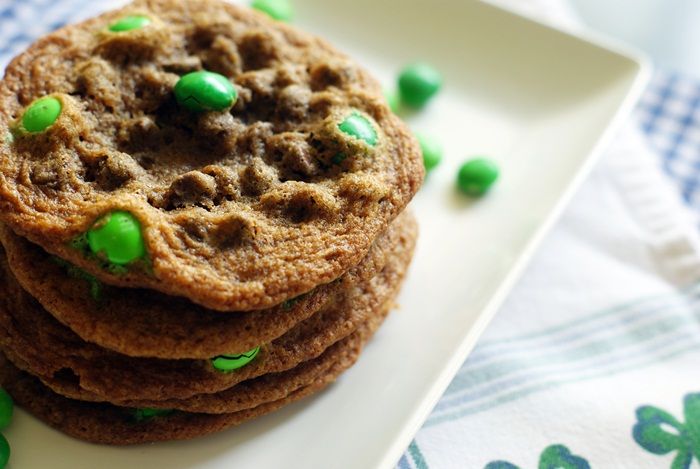 click
here
for the image source and recipe!
I recently saw the mint chocolate M&Ms at the grocery store and was excited to see a recipe that uses them! I haven't tried them, but they sound delicious baked into a cookie. This recipe also shows that the cookies would be great as a sweet (sweeter?) sandwich, putting mint ice cream in between two cookies!
Irish Soda Bread
click
here
for the image source and recipe!
The soda bread I tried in Ireland didn't have raisins in it, so I think you can leave those out if you want. My first meal in Ireland was fresh salmon on soda bread with coleslaw. It was so good! Click
here
for a gluten-free soda bread recipe.
I'll be really busy with dance and traveling this weekend, so I don't know if I'll have time to make any of these. If I do, however, I'd love to try the cupcakes. If you've tried any of these or will be making them soon, let me know how they turn out!
xo